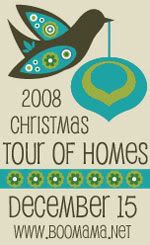 Meet my
friend
fake BFF, Boomama. She's a famous southern blogger and her blog was one of the first that I read on a regular basis. Her blog is hilarious, and I've sent just about everybody I know over to read it. The above picture was taken when she came to my church for the Gloria! concert a couple weeks ago. I'm sure she doesn't think I'm
a stalker
crazy or anything.
This is the third year that she has hosted the Christmas Tour of Homes. It actually started yesterday but I didn't have time to post. I think I'm #797 on the tour. So here is my home decked out in holiday style...
This is what you will encounter when you walk in the front door. A tray of Christmas balls and a snow globe...real original.
We have a two sided fireplace in the middle of our living room. So I have two mantels to decorate.
Here is mantle #1, the more "formal" side. We rarely sit in this room but it looks nice and neat when someone comes to the door.
Here is the front side of the tree. I use my nicer ornaments on this side of the tree. I always place a big bow at the top of my tree.




Here is my nativity set on top of the piano. Note to my CraftiMama: The Madagascar Lion Happy Meal toy has officially been removed from the nativity scene...I appreciate the special touch that you thought he would add. Of course, she insisted that the wise men be over to the side because they weren't really there when Baby Jesus was born. She wanted my nativity scene to be biblically correct. Do you know that some people don't add Baby Jesus to the nativity scene until Christmas morning? Does anyone do this?



Here is the other side of my tree. I place all the kid ornaments on this side.
Here is the other mantle...the less formal side.


I have to pass through the dining room to get to the kitchen so I keep the table set with dishes so that I'm not tempted to junk up the table with mail, junk, etc. These plates are available at your local Target.
And here is the whole table. CraftiMama is going to say the candle is too small. It is, but I didn't want to pay $20 bucks for the big one that I saw at Target.
I hope you'll join me on this bloggy tour of homes. I would love to see your Christmas decor!